Youth Leadership Opportunities
The WREA Board of Directors is supportive of the youth in this community and, as a result, WREA will sponsor High School students as they embark on an experience of a lifetime at the NRECA Washington, DC Youth Tour and the CEEI Youth Leadership Camp in 2023. Students will be selected for each event based on an essay contest and winners will be announced in January 2023. 
WASHINGTON dc yoUTH TOUR
Attention High School Juniors:  Each year, White River Electric selects students to attend the Washington DC Youth Tour.  Sending kids to participate in this once in a lifetime experience has been a long-standing tradition for WREA.   
High school juniors were asked to submit a 1-2 page essay on: "How did the Great Depression benefit our country- and specifically WREA?"    Winners will be announced in January 2023.  Meeker High School junior, Brighton Bair was selected as the 2022 winner.  Congratulations, Brighton! Interested participants must reside in the WREA service territory and be 17 years of age by June 1, 2023 or have completed his/her junior year of high school. 
WREA will pay ALL of expenses during the week-long trip to Washington DC and students will be treated to the learning experience of a lifetime. Winners will meet with senators and representatives and tour the nation's capital with tours to the Lincoln Memorial, the Holocaust Museum, Arlington National Cemetery and so much more. 
For any questions regarding the Washington D.C. Youth Tour, please contact WREA at 970-878-5041 or email atupy@wrea.org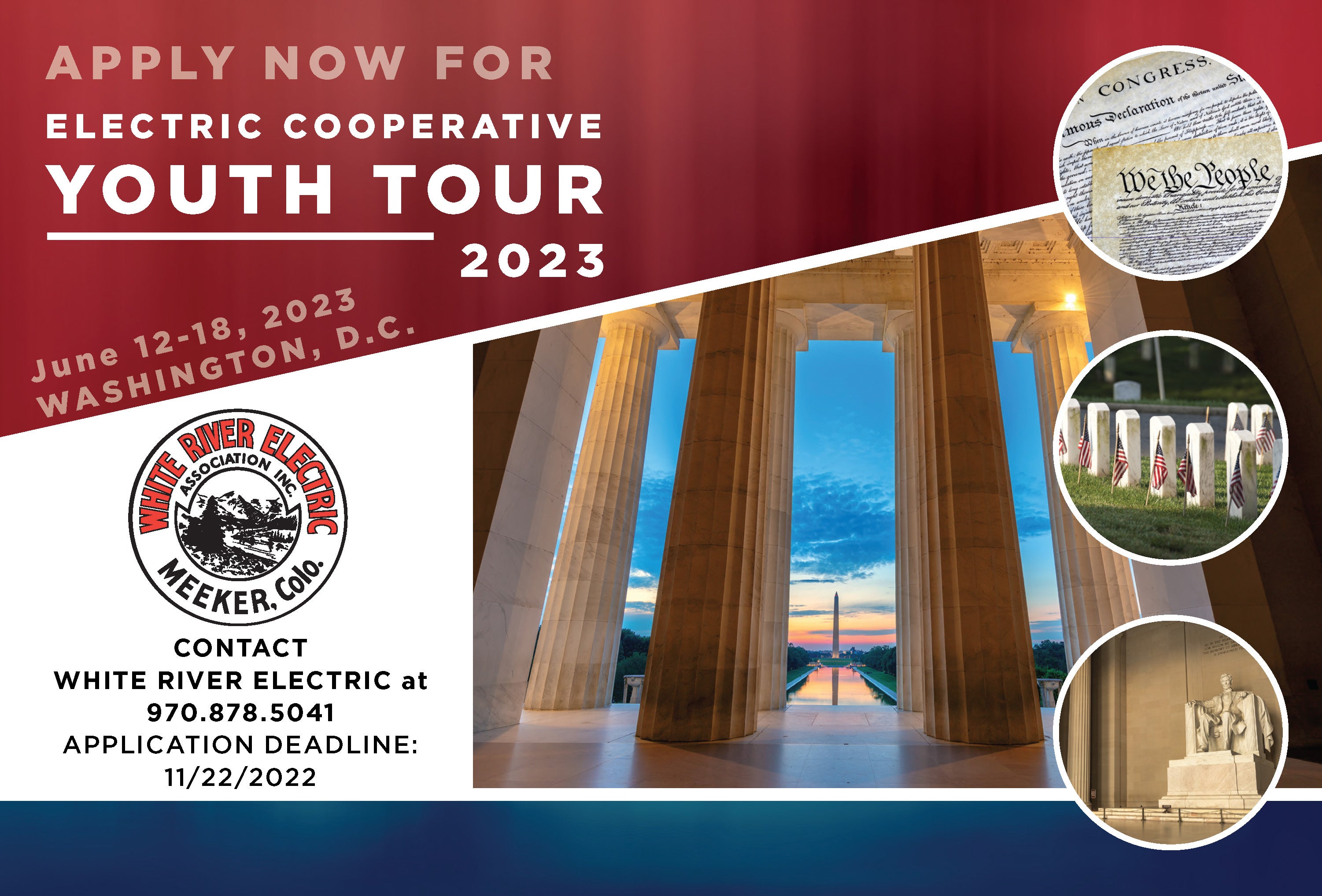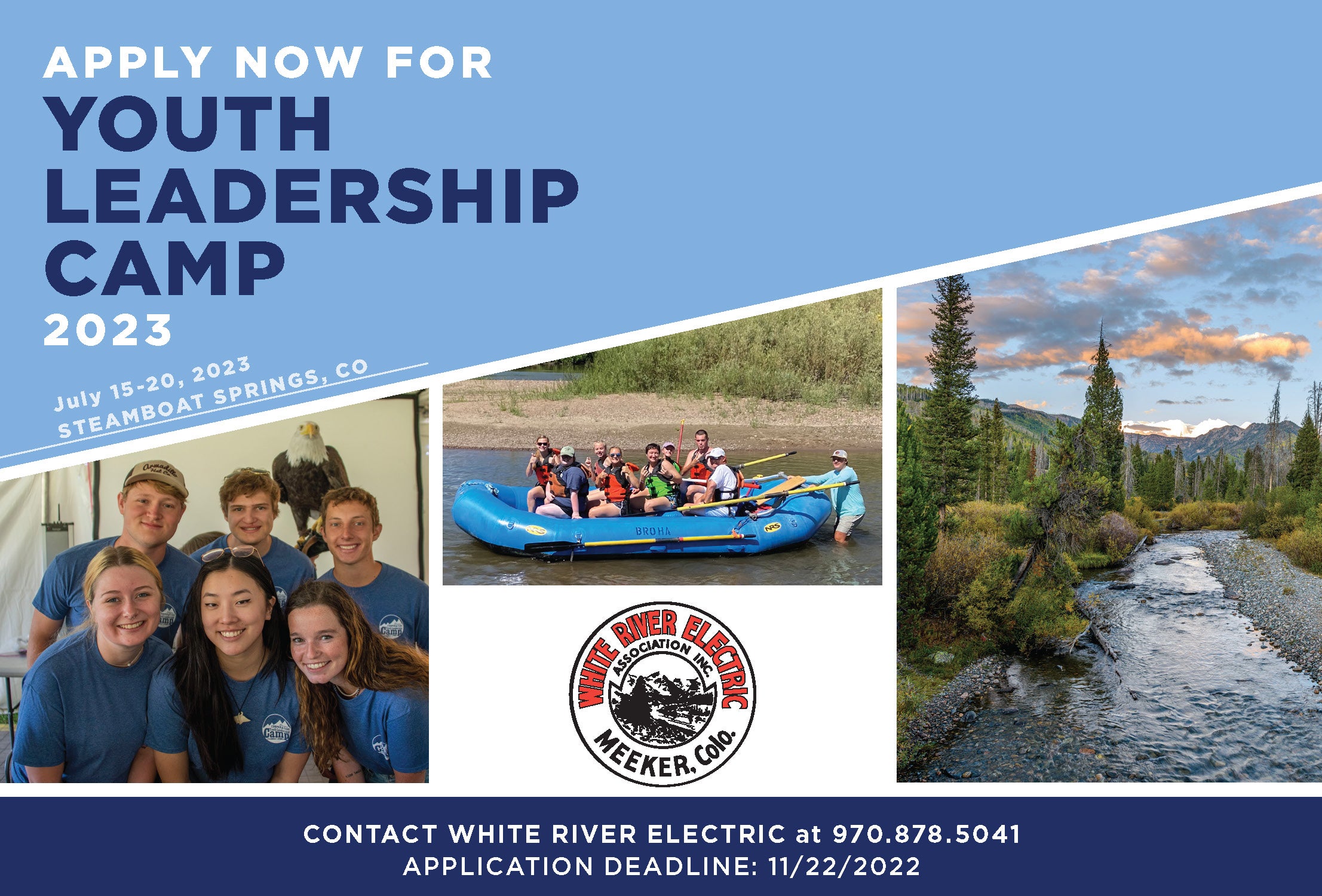 CEEI YOUTH LEADERSHIP CAMP
Attention high school sophomores: Each year, WREA selects two students to attend the CEEI Youth Leadership Camp in Clark, Colorado.   The camp is designed to encourage students to find their inner leader, learn about electric cooperatives and governance and the essay contest is open to high school sophomores each fall.  
Interested students were asked to submit an 1-2 page essay that is due before Thanksgiving break. This years essay topic is: ​​​​​​ Ralph Waldo Emerson once said: "What you do speaks so loudly that I cannot hear what you say ". This is a fancier way of saying action speaks louder than words. Should a leader lead with their actions or inspire with their words? Essays will be judged anonymously judged by volunteer members.   
Congratulations to Vivian Brown and Dawson Willey, who were selected to attend the 2022 Youth Leadership Camp this summer.
Participants must be reside in the WREA service territory, be 16 years of age by June 1, 2023 or have completed his/her sophomore year of high school. Winners will be announced January 2023. 
WREA will pay all expenses for the 5-day camp, including transportation to/from the camp. This camp is designed to allow students the opportunity to run their own cooperative, elect a General Manager and Board of Directors and vote as a membership. Past participants have credited it with changing their life and helping them "step out of the box into becoming a leader".
In addition, campers will be treated to a river rafting trip, a gondola ride to the top of Mt. Werner and various activities to encourage leadership. It will be a week students will never forget- and it's FREE!!!  Stay tuned to this website for details on the 2023 camp this fall or contact WREA for details- 970-878-5041 or email atupy@wrea.org. 
Read more about our Youth Leadership Camp by downloading the brochure to the right or enjoying this great video from the 2019 Youth Camp.