Youth Leadership Opportunities
The WREA Board of Directors is supportive of the youth in this community and, as a result, WREA will sponsor High School students as they embark on an experience of a lifetime at the NRECA Washington, DC Youth Tour and the CEEI Youth Leadership Camp in 2022. Students will be selected for each event based on an essay contest and winners will be announced in January 2022. 
WASHINGTON dc yoUTH TOUR
Attention High School Juniors:  Each year, White River Electric selects students to attend the Washington DC Youth Tour.  Sending kids to participate in this once in a lifetime experience has been a long-standing tradition for WREA.  For the past two years, and with the health and safety of students in mind, the Washington DC Youth Tour has been canceled.  With resiliency, the Youth Tour organizers expect the program to return in 2022 and we couldn't be more pleased to participate when the time comes.   Please do not miss this opportunity as it evolves.  Students will be required to submit a 1-2 page essay in December, 2021 and details will be published in the fall of 2021. Mark your calendars to follow up with us as the time nears for contest details.
If selected, WREA will pay ALL of your expenses during the week-long trip to Washington DC and you will be treated to an experience of a lifetime. Meet with senators and representatives and tour the nation's capital with tours to the Lincoln Memorial, the Holocaust Museum, Arlington National Cemetery and so much more. 
Despite the 2021 Washington DC Tour being canceled, WREA kept with tradition and held the essay contest.  Porter Hossack was selected as the winner and will be awarded a $500 upon graduation, 2022.  Congratulations, Porter!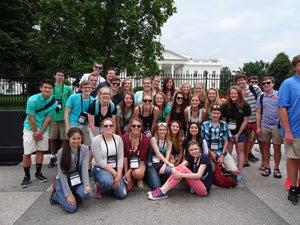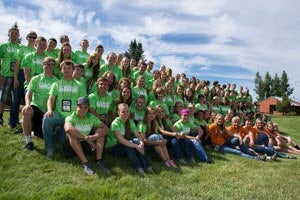 CEEI YOUTH LEADERSHIP CAMP
Attention high school sophomores: Each year, WREA selects two students to attend the CEEI Youth Leadership Camp in Clark, Colorado.   The camp is designed to encourage students to find their inner leader, learn about electric cooperatives and governance and the essay contest is open to high school sophomores each fall.  Mark your calendars and watch our facebook page or bookmark our webpage for contest details later this year.
If selected, WREA will pay all expenses for the 5-day camp, including transportation to/from the camp. This camp is designed to allow students the opportunity to run their own cooperative, elect a General Manager and Board of Directors and vote as a membership. Past participants have credited it with changing their life and helping them "step out of the box into becoming a leader".
Please, we encourage you to join in on the fun. Campers will be treated to a river rafting trip, a gondola ride to the top of Mt. Werner and various activities to encourage leadership. It will be a week that you will never forget- and it's FREE!!! Read more about our Youth Leadership Camp by downloading the brochure to the right or enjoying this great video from the 2019 Youth Camp.
Despite the 2021 Youth Leadership Camp being canceled, WREA kept with tradition and held the essay contest.  Braelyn Garcia and Conner Blunt were selected as the essay contest winners and were awarded gift cards to recognize their success and hard work.  Congratulations, Braelyn and Conner!