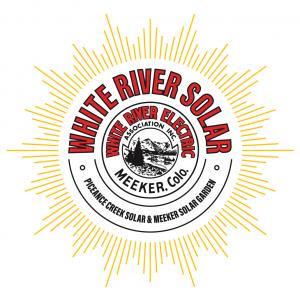 UPDATE- MAY, 2019- ALL PANELS ARE FULLY LEASED AT THIS TIME.
White River Solar: Block Lease Program - 2019-2020
White River Electric Association ("WREA") is excited to share information about White River Solar, our revised solar leasing program.  The Meeker Solar Garden program has been combined with the newly added Piceance Creek Solar Farm providing additional solar leasing opportunities for members.  White River Solar allows members to lease "Blocks" of solar power for each meter where the Meeker Solar Garden only allowed one panel per membership.
A Block in White River Solar represents the same value as the previous Meeker Solar Garden panel leasing program:  an annual lease of $36.00 provides a monthly solar production credit of $5.00, so long as the meter consumes a minimum of $5.00/month of energy.
Interested members should review their per meter energy consumption and select the appropriate number of Blocks/Tier.  The monthly production credit cannot exceed the minimum monthly energy charge based upon the previous year's usage.  Monthly production credits cannot offset a meter's monthly Service Charge.  Should the monthly production credit exceed the monthly energy charge, the excess monthly production credit will be forfeited.  Energy usage can be found on the monthly billing statement, online through SmartHub, or by calling WREA (970.878.5041).  
Example:  A member's lowest monthly energy usage, based upon the previous 12 months, is $30 (energy usage is in addition to the monthly Service Charge), then the member is eligible to lease up to three Solar Blocks for the specified meter.  The annual Solar Block lease fee = $108 with the production credit of $15/month ($180 / year).  Alternatively, the member could elect to lease just one or two Solar Blocks.
Interested members will be required to execute and return a White River Solar Block Lease for each meter. The lease fee will be automatically assessed to your electric account in May and will be due no later than June 15th.
Members with an existing solar panel lease are guaranteed an opportunity to lease one Solar Block.  Additional Solar Blocks will be available on a first-come, first-served basis.  WREA has a limited number of Solar Blocks available for lease with the balance of the solar production to be applied to the benefit of the entire WREA system. WREA will confirm Tier election and contact members if Tier selection requires adjustment.
Members are encouraged to review this information and contact WREA with any questions.  If you are interested in one or more Solar Power Block leases through White River Solar, promptly complete, sign and return a block lease for each meter. Solar Block leases are due to WREA no later than Friday, May 3rd, 2019 (Email at sgarcia@wrea.org , PO Box 958, Meeker, CO or delivery at 233 6th Street).
Residential Meters (R1)
Tier Options
# of Blocks
per Meter/Service Location
Yearly Lease Fee
Production Credit
Per Month/Year
1
1
$36
$5 / $60
2
2
$72
$10 / $120
3
3
$108
$15 / $180
Commercial Meters: (SC1, SC3, L1)
Tier Options
# of Blocks
per Meter/Service Location
Yearly Lease Fee
Production Credit
Per Month/Year
1
5
$180
$25 / $300
2
10
$360
$50 / $600
3
20
$720
$100 / $1200